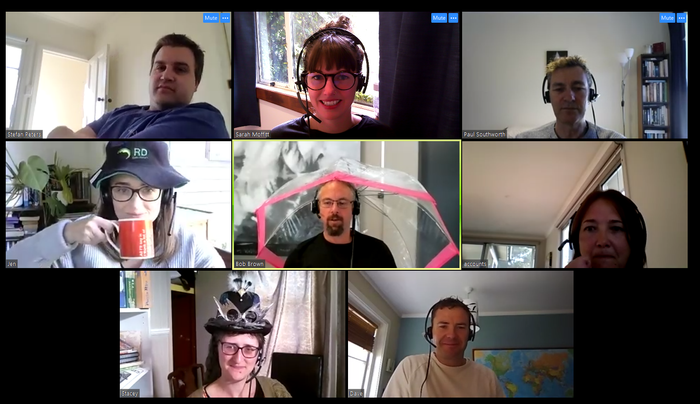 Even if your team are not officially 'working from home', having a regular online video meeting, or some sort of group chat set up can really help people get through the upheaval.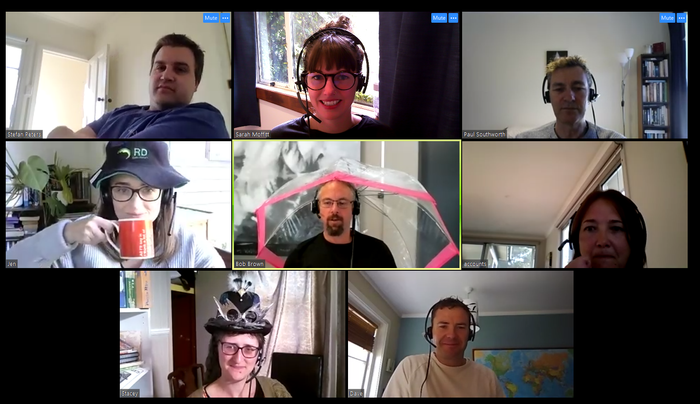 Even if your team are not officially 'working from home', having a regular online video meeting, or some sort of group chat set up can really help people get through the upheaval.
Things are tough for kiwi businesses right now
The Turboweb team have all switched to working remotely for the duration of the Coronavirus crisis. Like all businesses in New Zealand we've had to change how we do things in order to comply with Levels 3 and 4, support our healthcare workers, and protect those people in our communities who would fare really badly if infected.
We know that for all our clients, the Level 4 conditions have meant major upheavals to 'business as usual'. Some companies are essential services, which has meant trying to keep those essential parts of their business going, while keeping their staff safe and incorporating physical distancing rules. Other businesses have been able to have their staff work from home and can use this time to take a step back and rethink some strategies. And of course, some businesses are completely shut down for the duration.
As local businesses, we're in this together
Turboweb are right here too, making the same difficult business calls, and adjusting to what the 'new normal' will be for the next little while.
Pretty much everyone is worrying about what their company will look like when we all come out the other side of this. And most of us have additional stresses about elderly parents or relatives, working from home while caring for children, or worrying about loved ones who work in healthcare and other front-line roles.
How to stay together while being apart
Turboweb have operated with a couple of our staff working remotely for some time now. Many of you will know that Sarah Moffit, our Operations Manager, works remotely from Glenorchy, and Dave Hickman, our Canterbury and North Otago sales-rep, dials in from Christchurch.
Even though Turboweb have had a bit of practice having daily meetings by video conference, and suchlike, the shift to having everyone working remotely has been significant. We've learned a few things in the last few weeks about how to make it work better, which bits are turning out to be really hard, and been surprised by some of the improvements we've noticed. Here are some of the things we've learned:
Look after your people
The coronavirus Level 4 measures are significant and stressful. It's really important that we implement them well, so that we don't end up in the situation that Italy and Spain are in, for instance, but that doesn't make them easy. This article in the NZ Herald from the first weekend of lockdown articulates really well some of the stresses that people are facing right now.
Even if your company has been able to switch to working remotely, people just aren't going to be able to do the same work that they were doing before.
For most of us, this is nothing like what 'working remotely' usually means. People are working at kitchen tables or tiny desks in bedrooms. The lucky ones will have a proper computer chair, a good headset, and a decent monitor, but most will not, because those items didn't make it to the priority list in the two-day scramble before lockdown.
Those of us with children are without our normal childcare or school arrangements, so it's like a nationwide bring-your-kid-to-work day. But without the lollipops. And almost everyone is worried about elderly relatives, friends and family overseas, and exactly how they're going to do the grocery run this week.
Consider some counselling or EAP services for your business. Lots of counselling practices are offering video or phone consults which could be the difference between someone being okay versus crashing and burning.
This RNZ podcast contains some great info about talking to kids about covid19, and there are other mental health resources on the covid19.govt.nz site.
Even something as simple as getting outside every day can make a difference - even if it's raining. Remember,"There's no such thing as bad weather, only unsuitable clothing."― Alfred Wainwright
Online video meetings
We highly recommend having a regular catch up via video meeting with your team or staff.
We were surprised at how much better we all felt, just seeing each other's faces for a meeting. Turboweb have a daily 'roundup' meeting each morning where we all connect in and talk about our to-do lists and what we've got going on for the day.
Talking face to face gives us a bit of a chance for that important office banter, and just helps us all feel a bit less isolated. And it's a really efficient way to go over upcoming work and any business problems that might be cropping up.
Video calls can be set up using a bunch of different apps – many of which you might have already, or are free to download and use.
We use a combination of Microsoft Teams (part of your Office 365 package if you use it), and Zoom. But you can also use some of the messaging apps on your cellphone too, for example you can have a group video-call with up to four people with WhatsApp, and people who don't have Teams set up on their home computer can install the Teams app on their phone and join the meeting that way.
Video meetings are good for client calls too.
For some clients, especially those whom we have regular in-person meetings with, we have switched to having a video call. This won't work for everyone all the time, especially given the varying internet capacity around the place, but when it does work it's great. We have found that group calls especially, work better as a video call rather than a pure audio teleconference call. For one, if the audio isn't totally clear, having the video link as well means that we can often still tell what the other person is saying. And two, there's less confusion about who is speaking, who wants to say something, and who hasn't said anything at all yet!
Group messaging chat
Sure, we all have email and text, but when you're working together on something, being able to quickly fire off a message like "does anyone know anything about…" to the whole team is a huge time saver. People can all see the message at once, can see if anyone has answered it, and if several people have different information about the situation, we can all get up to speed at once.
We have used Slack as our office chat app for a long time, but there are several options out there. Again, Microsoft Teams has a chat function. And most of us are familiar with the various phone messaging apps.
When choosing and setting up a work chat, Turboweb have found the following tips helpful:
Have different channels or rooms for different purposes.
We mostly use our 'General' channel (for general business questions and conversation that everyone can see and contribute to), and our 'Random' channel (for hilarious giphs and memes, mostly). Over time we've created a couple of other channels for discussions that were getting lost in the General one, for ongoing projects and suchlike.
Say 'hi' in the channel when you start work and keep in touch when people knock off for lunch or at the end of the day.
When working remotely, we mostly can't see what other people are doing, so it's helpful to know that the reason that someone isn't responding to your message is because they've taken their kids out for a walk around the block or are having a coffee or whatever. It's also just a great way to keep that team unity going. Saying 'hi' and 'bye' each day is something that we just do automatically when we're working in the same space and transferring that across to the group chat helps people feel more connected.
Use something other than Facebook
Setting up a work chat on Facebook might seem like an obvious, easy, and free way to get a group conversation going, but we'd recommend against it for a couple of reasons.
The first reason is that people need to have some separation between work-life and home-life. This is hard to do when you're working from home, and especially hard during this lockdown rāhui, when we are trying to live all our lives within the boundaries of our homes. Being able to turn off the work messaging notifications when you're not 'at work' is really important. This works for both the person who needs to be able to ignore work while they're not on the clock, and for the person who needs to fire off a quick question while they think of it, without worrying that they're disturbing someone else's evening.
The second reason is related to the first. You need to let people have their privacy. Lots of people are extremely reluctant to connect with their workmates and bosses through Facebook, for obvious reasons. People's Facebook accounts are mostly about connecting with friends and family, and things that are strictly social. Don't cross the streams. Having a separate messaging app for work conversations helps keep things professional.
Talk to Turboweb today
We're seeing some great innovation happening all over the region as people pivot quickly and adapt their businesses to the new online environment. Chat to us about how we can help you.
Are you able to offer essential services in Level 4, and need your website to help you do that better? Maybe you need an online ordering or booking form?
Are you wanting to position yourself to take advantage of a shift to Level 3 or Level 2? Do you need online purchasing through your website, or a products module so people can buy your products without needing to come into your store? We can set these up with whatever complexity you need – whether it's a simple form that you then follow up manually by phone or email, through to the complete online store with shopping cart and credit-card integrations.
We already have a couple of clients with a gift-voucher module, where their customers can buy vouchers for themselves or a loved one. Could we set one up for your website, with vouchers to be redeemed once the Covd19 Levels allow it?
One awesome idea we saw this week is from a local florist (not one of our clients – we just think it's a great idea). They are offering a 'virtual bouquet' service, so customers will purchase the bouquet of their choice through the website, and the recipient will get an e-card with the message and a photo of the bouquet delivered to their email address. Once delivery services for flowers start up again, the real bouquet will be sent.
Give us a call and talk with us about how we can work with you during this time.